Pingnu, Debian transfer ab-so-lu-tely non official
What does Pingnu means?
Pingnu is the contraction of penguin and gnu (beware of french accent: pen-gnu).
Pingnu is a trend-setting penguin wearing gnu horns.
What does Pingnu look like?
With that: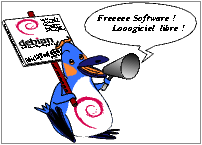 Two days old and out-of-date! Collector's item!
New! Released Debian 3.0 [Woody], with the date and time Joey's announce message was received by the first relay !
pingnu the vector transfer in Postscript Level 3 (encapsulated) format (gzip compressioned, 17 kilobytes).
pingnu the vector transfer in postscript Level 3 (encapsulated) format (gzip compressed, 17 kilobytes, reversed for direct printing – it seems some transfer kits needs that).
the sketch source built on Sketch ( .sk format – gzip compressed, 5,8 KB).
Which are the advantages of Pingnu compared to an ordinary transfer?
As its licence shows , pingnu is free – free like in free will, even if he's also free of charge (Attention: you must remove the openlogo Debian and the Debian swirl if you do not want to refer to Debian).
Pingnu is entirely carried out in open formats: both the native format of the sketch program, used as source, and the postscript copy are formats from which the specifications are accessible to the public without restriction.
Pingnu can be enlarged or shrunk without loss of quality, because its binary format is a vector postscript output, obtained directly from the program having been used for its creation.
Thanks to MJ Ray for his helpfull review

Pub :



metooers